GET STARTED NOW
SCHEDULE A CALL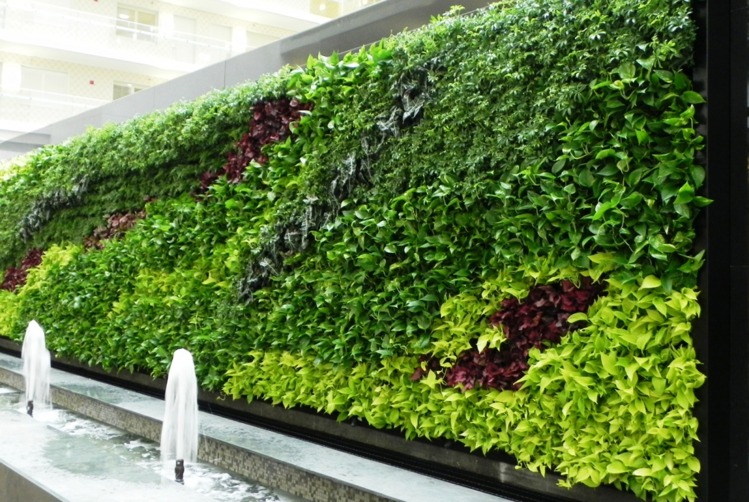 A green wall is also known as 'living walls', 'bio-walls' or 'vertical gardens' and has plants attached to an internal or external wall in supported vertical systems. Green walls comprise vegetation, a foundation that supports growth, an irrigation system, a system for fertilizer and drainage, all working together as a single unit.
With space becoming scarce, there is a need to fit nature into our homes and buildings. Vertical gardens offer an alterntive for gardeners who don't have a lot of horizontal area to work with. It also works well when an unattractive wall needs to be covered, or something different is demanded.
Bio walls make use of vertical spaces to grow vegetables, herbs, and green plants. Plants on a vertical wall are not installed in the traditional manner. Green walls can help reclaim disregarded space by adding to the quality of its aesthetics. Plants such as herbs, shrubs, flowers, ferns, ornamental plants, fruit and vegetable bearing plants can be used to add variety to a vertical garden. One can choose from a wide range of modular systems or sheet- or board-based structures with pockets to create green wall structures.
Some benefits of a vertical garden include clean air, good screening, energy conservation, less pollution, organic way of farming, and relief from stress. Some of the private benefits of these bio walls are improved energy efficiency as the plants reduce indoor temperature fluctuations due to HVAC units and noise reduction by blocking high frequency noise especially when used in buildings near highways, arterials, and railway lines. Green walls also provide attractive design features besides insulating the building from direct sunlight.
Green Corners offers a vertical garden solution with selected species of plants that will fulfil not just the need for a bespoke design but also other functional aims.